Ongoing impact of rising energy costs and inflation
Cork Chamber members expressed their views on rising energy prices and measures they are taking to combat these challenges. Emerging from these findings, Economic Trends Q4 2022 also shares a picture of how member companies are adapting to the evolving situation and the implications for employment outlook, turnover and net profit and business growth.
Energy costs increased across all sectors in 2022 prompting a likely erosion of profitability and a threat to business viability.  Businesses' expectations on the actual cost of energy were borne out by the fact that 82% of respondents indicated that energy costs were as high as originally estimated for Q4 2022.
Over half of respondents say government supports have not been effective in cushioning the rising cost of energy. This is a key concern and with high energy costs likely to continue to affect businesses into 2023, business supports will need to be revisited and reinforced by government, scheme expansion and alignment with EU support schemes is needed.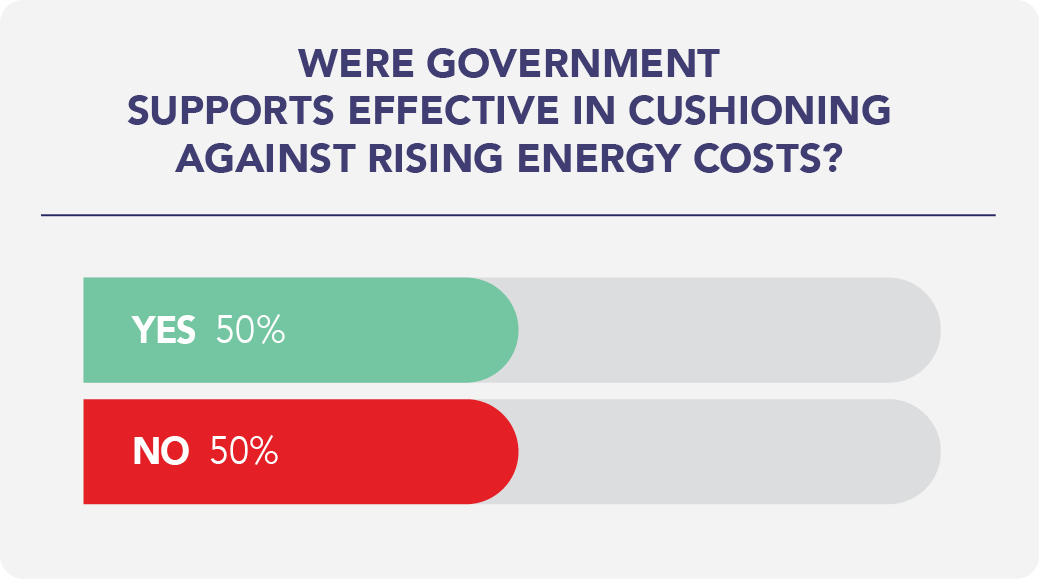 Business Confidence
Although the impact of rising costs and skills shortages are likely to have a lagging impact on profitability and operations, a high level of personal business confidence from an overall financial perspective was reported by Cork's business community at the close of Q4 with confidence at an all year high of 94%. Given the turbulent year just passed, this is a very positive sign for the regional economy.
Confidence in the Irish Economy
Confidence in the Irish economy rose to 66% in Q4 of 2022. This is a marked increase from Q3  when only 47% of businesses expressed confidence in the Irish economy heading into Q4 2022. Falling confidence had been part of a consistent trend in 2022. This U-turn in business sentiment on the wider economy is a very positive signal heading into a challenging 2023.
Employment Data
Businesses continued to hire strongly in Q4 with 40% of companies increasing their headcount. In Q4 57% of companies reported advertisement of current open vacancies. This figure was 49% in the same period the previous year Q4 2021.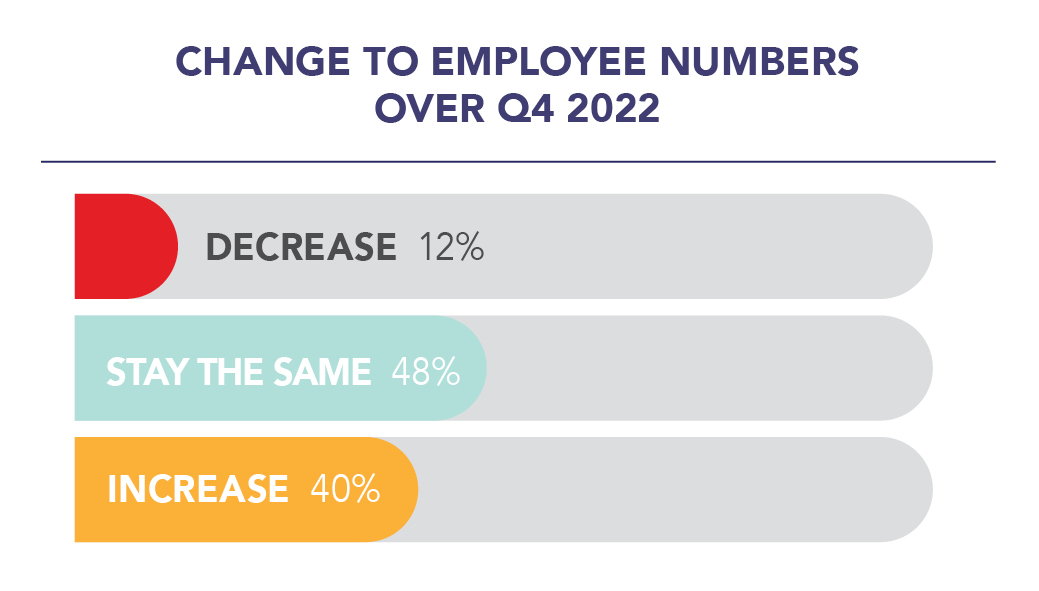 The proportion of companies having difficulty hiring for unfilled roles jumped to 64% in Q4 from 43% of companies in Q3 2022. Specialist skills shortages remained the single largest factor affecting companies' recruitment efforts at 65% up from 52% in Q3 2022, with this trend consistent throughout 2022. The number of companies who expect to increase employee numbers for the next 12 months remains strong at 53% increase anticipated (41% in increase anticipated in Q3), 40% expect employee numbers to stay the same and 7% expect a decrease.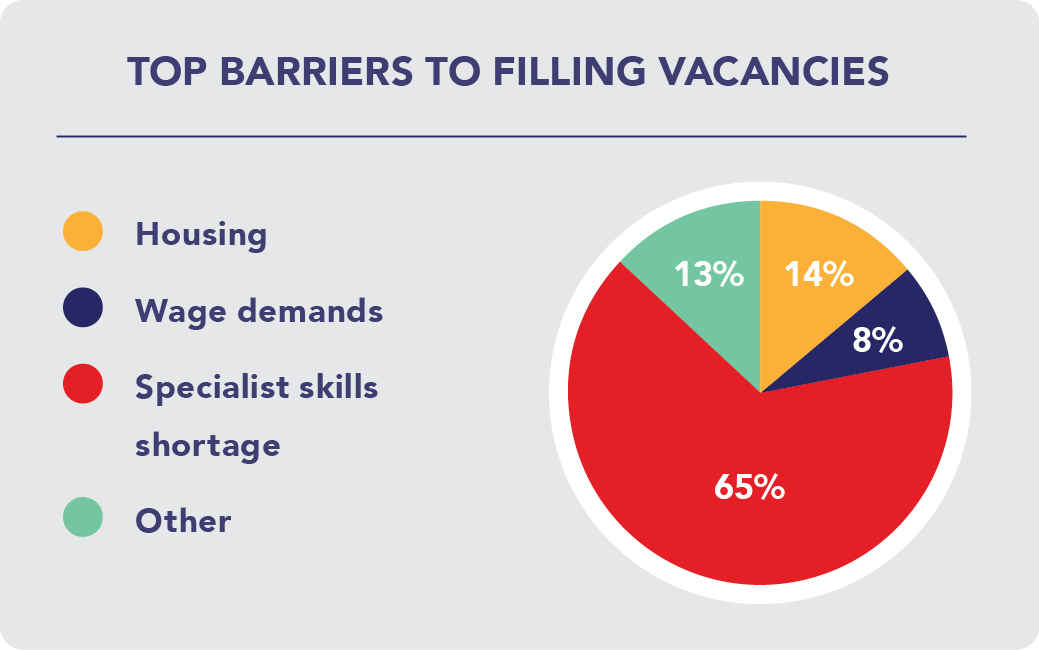 Q4 % Turnover and Net Profit
Despite expected reduced profitability due to energy costs, 40% of respondents reported a net profit increase in Q4 2022, this is up from 37% reporting a net profit increase in Q3 2022. Over half, 51%, of survey respondents experienced a turnover increase in Q4 2022, this is the same percentage reported by companies in the last three successive quarters Q1, Q2 and Q3 2022.  52% of respondents anticipate an increase in turnover in Q1 2023, 42% anticipate it will stay the same and 6% forecast a decrease in turnover in the first quarter of 2023.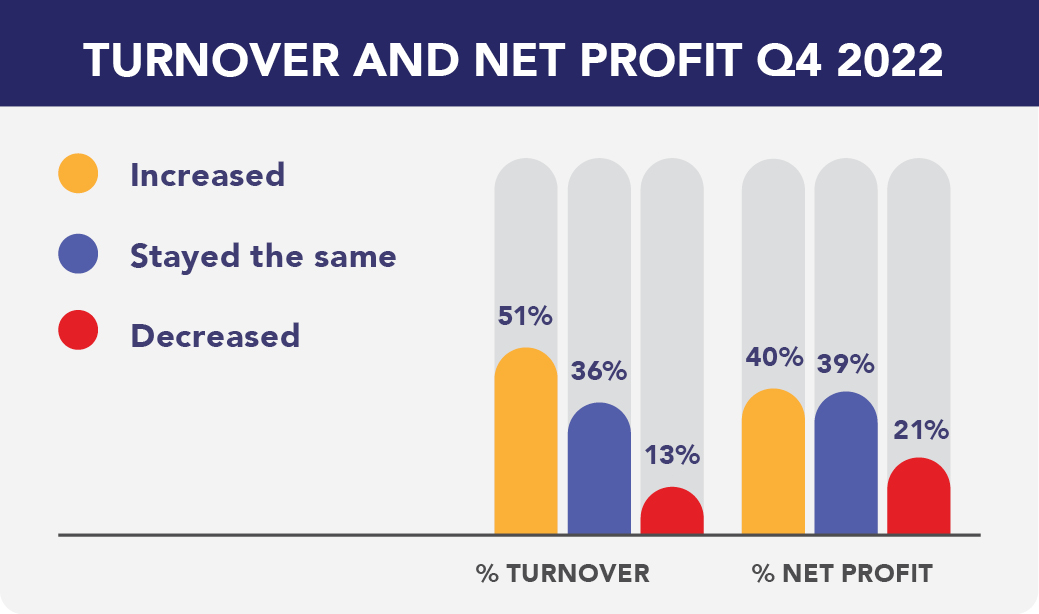 Top 3 threats to business growth
Changing Consumer Spending/ Reduced Orders

Cost of Energy and Raw Materials
Availability of accommodation for employees & Competitiveness (joint 3rd)
Download previous reports