Impact of rising energy costs and inflation
Cork Chamber members expressed their views on rising energy prices and measures they are taking to combat these challenges. Emerging from these findings, Economic Trends Q3 2022 also shares a picture of how member companies are adapting to the evolving situation and the implications for employment outlook, turnover and net profit and business growth.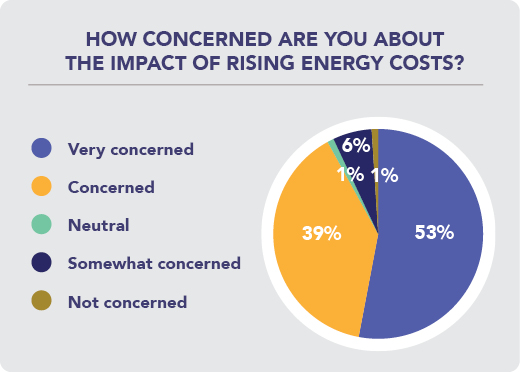 Positively, opportunity in crisis has been identified by member businesses with energy efficiency measures ranking as the highest priority action to take to combat rising prices.
Potential cost reductions/financial incentives
Climate/sustainability of government
Available support/expertise
Guaranteed RoI
Bearing in mind the clear prioritisation of energy efficiency reported by companies, the Economic Trends survey Q3 2022 found that:
8% of companies are planning to reduce production or trading hours to combat rising costs.
9% of companies are planning to reduce staffing/headcount.
26% of companies reported that energy saving is a factor in their business work from home policies.
20% of companies are planning to seek finance/borrow funds in the next quarter.
The above findings seem to be a moderate business response to current conditions.
Business Confidence
Despite threats to business growth, it is positive to note a high level of personal business confidence from an overall financial perspective among the Cork business community reported at 85%, although down from 90% in the last quarter Q2 2022 and a high of 91% in the same quarter last year.
Confidence in the Irish Economy
Inflation and the energy crisis are impacting confidence in the Irish economy with a marked fall in confidence – for the first time in 2022 a majority of businesses are now not confident in the Irish economy (51%).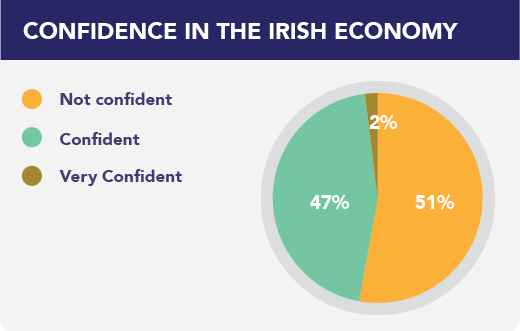 Employment Data
A tight but a possibly more stable labour market is evident in Q3 2022 with 38% of respondents reporting company employee numbers increased in Q3 2022, 53% stayed the same and 9% reported a decrease.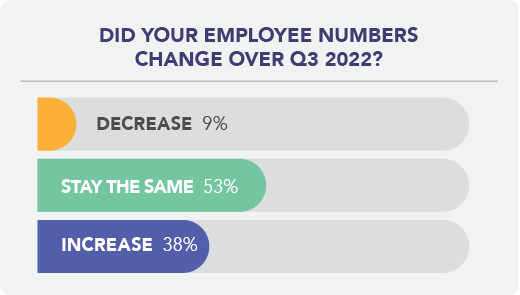 Specialist skills shortages remain the main factor affecting companies' recruitment efforts, although down from 66% in Q2, 43% of companies were having difficulty hiring for unfilled roles in Q3. Housing and wage demands being a barrier to recruitment have risen from jointly 12% in Q2 to 22% and 20% respectively in Q3 2022.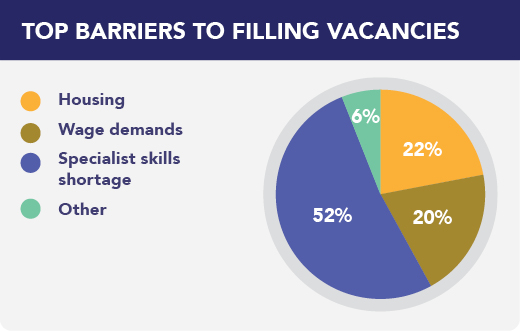 Q3 % Turnover and Net Profit
The latest Q3 survey shows that 51% of respondents experienced a turnover increase in Q3 2022, this is the same as the percentage reported by companies in the last two quarters. 49% of respondents anticipate an increase in turnover, 32% anticipate it will stay the same and 19% forecast a decrease in turnover in Q4 2022. On profitability, 37% of respondents reported a net profit increase in Q3 2022, this is down from 42% reporting a net profit increase in the previous quarter. 42% expect their company's net profit to increase in Q4 2022 while 33% anticipate profits will stay the same, and 25% predict a decrease in profits.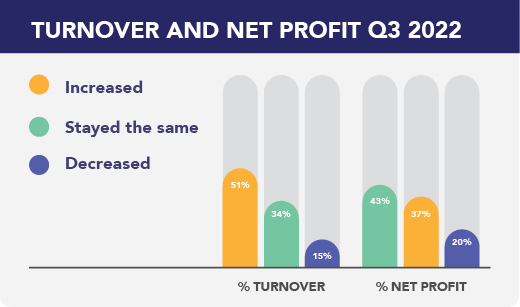 Top 3 threats to business growth
Changing Consumer Spending/ Reduced Orders

Cost of Energy and Raw Materials
Competitiveness
Download previous reports